19May
Twitter Growth Hacks Strategies for Insane Traffic & Followers
May 19, 2019
Posted by:

Arijit Gupta
Twitter. A micro-blogging app designed to post very short comments or thoughts. Ideal for our millennial lifestyles, isn't it? Even celebrities from all spheres of life use Twitter to build and maintain their fan base. 280 characters is all it takes. Though, what has often escaped the attention of many is how this social media platform has also been used by small and large businesses to increase their global outreach. But this mountain bluebird is not alone in the zoo of social media platforms. Then, why are we specifically interested in increasing our Twitter followers?
WHY TWITTER?
The speed at which conversations and customer engagement can take place via Twitter is unparalleled. Twitter receives around 500 million tweets in a day and it allows you to connect easily with an ever-growing global audience, as it's users are mostly millenials spread across the globe. The audience that Twitter caters to is therefore, more beneficial from a marketing perspective as these millenials are stronger customers, as they are the ones who are more accepting towards newer market trends. This invariably means that the role that Twitter plays in initiating conversations with a wider audience, in increasing brand visibility and brand awareness, is pivotal.
But to be able to do all that, you must first get a large number of followers as your tweets are seen only by your twitter followers or by their followers when your tweet is shared. Is there any objective way to increase your number of followers on twitter?
WHAT IS GROWTH HACKING?
Growth hacking, in our context, refers to strategies employed to increase the number of followers on your twitter account. This involves well thought out steps and measures to build and sustain a Twitter presence. And it takes both time and patience. Now let us turn to the important question: how do we do it?
HOW TO INCREASE TWITTER FOLLOWERS?
1. Profile Optimization
Creating a strong profile with a great picture, header photo, and bio is the first step toward conveying your brand image and developing a sense of trust in your customer.
Your display image should either contain your brand logo or something which you want your brand to be synonymous too. Take care of the aesthetics like centering the portion of the photo and taking care that the boundaries do not get cropped.
The header photo or the background image should further the message that your brand stands for. It can also be used to promote your latest product.
You can afford to be creative with your Twitter bio but take care that it should primarily describe your brand and give out the essential contact details. Use of keywords and hashtags is indeed useful as your bio is searchable. The creativity, if at all, should be in the form of one or two additional phrases coherent with the rest of the description and with the brand message.
2. Engaging your Twitter Followers
First impressions do matter, in order to generate an outsider interest in the mind of your customers. But nothing increases your reach and visibility as customer engagement does. The number of followers and are completely unrelated aspects, and the former does not imply the latter. You can engage your customers by interacting with them via responding to their comments and mentions, or messaging them directly, or conducting "live chats". Do not shy away from showing a bit of your personality. This makes your customer feel like an insider, and when your followers share these experiences, their followers become curious. So, engagement translates to endorsement too.
3. Active Twitter Routine
You should be regular with your twitter posts and with executing the customer engagement strategies. Irregularity may not only halt the increase of followers but may also make you lose them. If you do not have enough time to dedicate towards this, you may also hire a social media enthusiast who is experienced enough to keep your brand message and brand image intact while interacting with the followers on your behalf.
4. Know Your Twitter Followers
Twitter does not exactly work like Facebook in the sense that if you post your tweets at such time of the day when it is unlikely that most of your followers would be online, those tweets won't be seen later on either. The time of your posts matters as less visibility means less engagement and less traffic.
But that is not all. Even if you post when most of the users are on the platform, you would still have more tweets to compete with. At this juncture, you would need to know what engages YOUR target audience the most. Data analytics comes in handy in such a scenario.
Twitter gives you an audience overview on analytics.twitter.com which includes everything, starting from topics they are interested in, to even their wireless carriers. You can use Tweriod to know the most suitable time for posting your tweets. This would help you to tailor your content and time your posts to obtain optimal performance.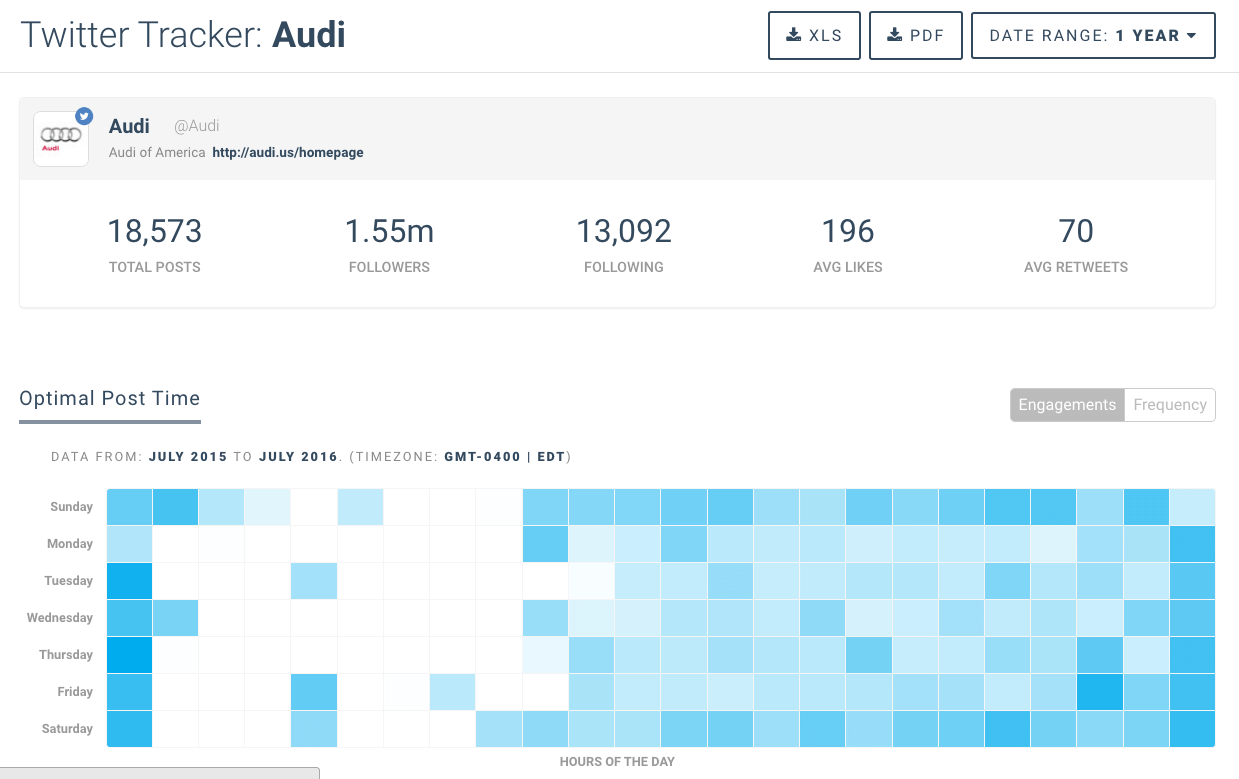 5. Pinning Posts to Your Profile
When it comes to engaging customers, good and relevant content is a must. Since the relevance of a concept is ever changing due to the evolving market trends at all times, coming up with content inviting positive response from the audience everytime might be a bit too much to expect. But are the posts, which has done well for you in the past, gone once and for all? Wouldn't it be a shame if your future profile visitors and customers won't be able to see that just because newer posts have pushed it down?
Pinning a tweet that was well-received by your twitter followers will ensure that profile visitors and potential followers get to see it too. Just like a job interview, a well-received pinned tweet is important to build a good impression.
You can also pin tweets which highlights an upcoming promotion or event, or you can even promote your brand through pinned tweets.
CONCLUSION
Keeping in mind these small points and making them a habit while handling your twitter profile can give your business the much-needed boost it deserves. The general, but subjective, rules of aesthetics in the overall appearance of your profile and in the nature of your tweets will attract potential customers. Whether they eventually stay or not depends on how well you are able to engage with them through your posts and how regularly you are tweeting in the first place. Afterall, who wouldn't want to increase their twitter followers? The scene is already competitive. Whether or not you are able to emerge out of this competition depends on how well you are able to apply these strategies.